Plants
Looking for a gift that will last a while longer? Try one of our lush, green plants. Not only do they provide fresh air, they are beautiful to look at and can be long-lasting members of any family. The Flower Cottage & Gifts offers a wide range of blooming, green, and mixed plant options. Call or visit one of our shops to see what plants we have in stock and what is popular for the season.
NOTE: All containers, vases, flowers, etc. are subject to availability. Each order is made as close to the chosen item as possible. If you have questions or concerns regarding subsitutions, please call one of our locations.
Call or stop by one of our 3 locations:
The Flower Cottage & Gifts, LLC, 1675 Madison Place, Lithia Springs, GA, 30122. Phone: (678) 401-2787

The Flower Cottage & Gifts, LLC, 9395 The Landing Drive, Suite H-400, Douglasville, GA, 30135. Phone: (770) 949-6551 & (770) 948-8533
Thank you and we look forward to seeing you soon!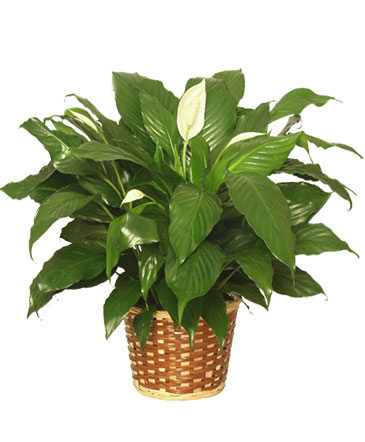 PEACE LILY PLANT
Spathiphyllum clevelandii
The Peace Lily is a popular choice in house plants, thriving in most home and office settings with very little plant care required! It is also one of the few flowering plants that blooms reliably indoors and is oftentimes seen displayed in decorative plant containers and plant stands. 6" Pot 8" Pot 10" Pot
$50.00, $70.00, $100.00
Shown at $70.00
PEACE LILY PLANT
SPATHIPHYLLUM CLEVELANDII
Spathiphyllum Plant (Peace Lily) Basket With Liner.
The Peace Lily is a popular choice in house plants, thriving in most home and office settings with very little plant care required! It is also one of the few flowering plants that blooms reliably indoors and is oftentimes seen displayed in decorative plant containers and plant stands. 6" Pot 8" Pot 10" Pot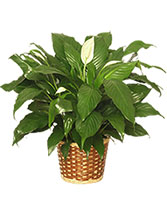 $50.00
$70.00
$100.00
Shown at $70.00
Shown at $70.00

PEACE LILY PLANT

SPATHIPHYLLUM CLEVELANDII

Spathiphyllum Plant (Peace Lily) Basket With Liner.

The Peace Lily is a popular choice in house plants, thriving in most home and office settings with very little plant care required! It is also one of the few flowering plants that blooms reliably indoors and is oftentimes seen displayed in decorative plant containers and plant stands. 6" Pot 8" Pot 10" Pot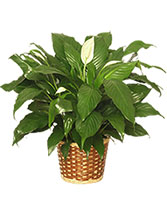 $50.00
$70.00
$100.00
Shown at $70.00