Get Well Flowers
Let The Flower Cottage & Gifts help you send get well wishes to your friend or loved one. Show them how much you care with a get well gift basket filled with a floral arrangement or customized get well gifts. A vase of fresh flowers or a basket of living plants is a great and easy way to cheer up a loved one. Scroll down to browse and order online from our sample selection of get well flowers and plants or call to customize a gift for that special someone.
NOTE: All containers, vases, flowers, etc. are subject to availability. Each order is made as close to the chosen item as possible. If you have questions or concerns regarding subsitutions, please call one of our locations.
Call or stop by one of our 3 locations:
The Flower Cottage & Gifts, LLC, 1675 Madison Place, Lithia Springs, GA, 30122. Phone: (678) 401-2787

The Flower Cottage & Gifts, LLC, 5823 Mableton Parkway SE, Mableton, GA, 30126. Phone: (770) 948-8533

The Flower Cottage & Gifts, LLC, 9395 The Landing Drive, Suite H-400, Douglasville, GA, 30135. Phone: (770) 949-6551
Thank you and we look forward to seeing you soon!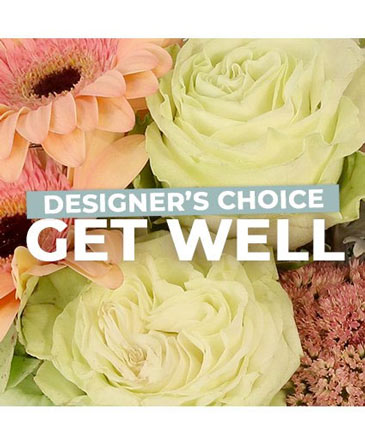 Get Well Florals
Designer's Choice
These flowers are sure to make them smile when they need it the most! Show them you care with a beautiful flower arrangement designed by our expert florists. Send our Designer's Choice Get Well flowers to give them something to feel good about!
Hospitals and Health Care Providers in Our Delivery Area:

| Name | Address | Phone |
| --- | --- | --- |
| Charis Homes Inc | 8847 Hospital Dr Douglasville, GA. 30134 | (770) 920-2273 |
| Garden Terrace Nursing Ctr | 4028 Highway 5 Douglasville, GA. 30135 | (770) 942-7111 |
| Inner Harbour Hospitals Ltd | 4685 Dorsett Shoals Rd Douglasville, GA. 30135 | (770) 942-2391 |
| Lighthouse Retreat | 1431 Brittain Rd Douglasville, GA. 30134 | (770) 942-2153 |
| Terrace Square | 4030 Highway 5 Douglasville, GA. 30135 | (770) 920-0754 |
| The Liposuction Center | 6842 Douglas Blvd, Suite J Douglasville, GA. 30135 | (770) 299-2279 |
| Wellstar Douglas Hospital | 8954 Hospital Dr Douglasville, GA. 30134 | (770) 949-1500 |
| A G Rhodes At Wesley Woods | 1819 Clifton Rd Ne Atlanta, GA. 30329 | (404) 315-0900 |
| A G Rhodes Home Inc | 350 Boulevard Se Atlanta, GA. 30312 | (404) 688-6731 |
| Alcohol & Drug Svc | 1000 Johnson Ferry Rd Ne Atlanta, GA. 30342 | (404) 851-8961 |
| Allen Road Midrise | 144 Allen Rd Ne Atlanta, GA. 30328 | (404) 459-8646 |
| Amina Medical Consultant, Pc | 2840 Northeast Expy Ne Ste 116 Atlanta, GA. 30345 | (404) 948-4792 |
| Anchor Hospital | 5454 Yorktowne Dr Atlanta, GA. 30349 | (770) 991-6044 |
| Ansley Pavilion | 560 Saint Charles Ave Ne Atlanta, GA. 30308 | (404) 874-2233 |
| Arbor Terrace | 1001 Research Ctr Atlanta Sw Atlanta, GA. 30331 | (404) 691-0304 |
| Arborwood Place | 3337 Lynnray Dr Atlanta, GA. 30340 | (770) 938-9263 |
| Argus Circle Personal Care 2 | 339 New Jersey Ave Nw Atlanta, GA. 30314 | (404) 691-6900 |
| Asbury Harris Epworth Towers | 3033 Continental Colony Pky Sw Atlanta, GA. 30331 | (404) 344-9400 |
| Ashton Woods Rehabilitation | 3535 Ashton Woods Dr Ne Atlanta, GA. 30319 | (770) 451-0236 |
| Atlanta Cancer Ctr | 345 Boulevard Ne Atlanta, GA. 30312 | (404) 265-4928 |
| Atlanta Center For Eating | 2300 Peachford Rd # 2010 Atlanta, GA. 30338 | (770) 458-8711 |
| Atlanta Center-Sleep Disorders | 303 Parkway Dr Ne Atlanta, GA. 30312 | (404) 265-3722 |
| Atlanta Face & Body | 3200 Cobb Galleria Pkwy Atlanta, GA. 30339 | (678) 888-3223 |
| Atlanta Handicapped Manor | 450 Fairburn Rd Sw # 25 Atlanta, GA. 30331 | (404) 696-3187 |
| Atlanta Medical Ctr | Po Box 405 Atlanta, GA. 30301 | (404) 265-4000 |
| Atlanta Medical Ctr | 315 Boulevard Ne # Ll Atlanta, GA. 30312 | (404) 265-3521 |
| Atlanta Pain Ctr | 303 Parkway Dr Ne Atlanta, GA. 30312 | (404) 265-4621 |
| Atlanta Physicians Group P.c. | 785 Virginia Avenue Atlanta, GA. 30354 | (770) 938-2625 |
| Atlanta Smiles And Wellness | 4405 Northside Pkwy Nw, Ste 110 Atlanta, GA. 30327 | (404) 262-7733 |
| Atlanta's Northside Hospital | 1100 Johnson Ferry Rd Ne Atlanta, GA. 30342 | (404) 851-8817 |
| Atria Communities Inc | 2848 Lenox Rd Ne Atlanta, GA. 30324 | (404) 240-2848 |
| Atrium At Georgetown Park | 4355 Georgetown Sq Atlanta, GA. 30338 | (770) 986-1100 |
| Autumn House Personal Care Hme | 3059 Nottaway Ct Atlanta, GA. 30341 | (770) 939-1312 |
| Baptist Medical Ctr Cumming | 100 10th St Nw Atlanta, GA. 30309 | (404) 253-2400 |
| Baptist Towers Corp | 1881 Myrtle Dr Sw Atlanta, GA. 30311 | (404) 758-4562 |
| Betty's Personal Care Home | 1238 Epworth St Sw Atlanta, GA. 30310 | (404) 752-5875 |
| Beverly Healthcare | 5470 Meridian Marks Rd Ne Atlanta, GA. 30342 | (404) 256-5131 |
| Blessed Event Personal Care | 939 Katherwood Dr Sw Atlanta, GA. 30310 | (404) 758-2281 |
| Bonterra Nursing Ctr | 2801 Felton Dr Atlanta, GA. 30344 | (404) 767-7591 |
| Branan Towers | 1200 Glenwood Ave Se Atlanta, GA. 30316 | (404) 622-5471 |
| Briarcliff Oaks | 2982 Briarcliff Rd Ne Atlanta, GA. 30329 | (404) 634-3263 |
| Brighton Gardens | 3088 Lenox Rd Ne Atlanta, GA. 30324 | (404) 846-8335 |
| Budd Terrace At Wesley Woods | 1833 Clifton Rd Ne Atlanta, GA. 30329 | (404) 728-6500 |
| Calvin Court | 479 E Paces Ferry Rd Ne Atlanta, GA. 30305 | (404) 261-1223 |
| Campbell-Stone Apartments | 2911 Pharr Court South Nw Atlanta, GA. 30305 | (404) 261-4132 |
| Campbell-Stone North Apt | 350 Carpenter Dr Ne Atlanta, GA. 30328 | (404) 256-2612 |
| Canterbury Court | 3750 Peachtree Rd Ne Atlanta, GA. 30319 | (404) 261-6611 |
| Carter's Tender Loving Home | 957 Cascade Rd Sw Atlanta, GA. 30311 | (404) 752-5171 |
| Cathedral Towers | 2820 Peachtree Rd Nw Atlanta, GA. 30305 | (404) 231-3020 |
| Chancellor Park Of Dunwoody | 1460 S Johnson Ferry Rd Ne Atlanta, GA. 30319 | (404) 252-7974 |
| Charter Peachford | 2151 Peachford Rd Atlanta, GA. 30338 | (770) 455-3200 |
| Charteranchor Behavioral | 5454 Yorktowne Dr Atlanta, GA. 30349 | (770) 991-0733 |
| Children's Healthcare | 1150 Lake Hearn Dr Ne Atlanta, GA. 30342 | (404) 250-3217 |
| College Park Health Care Ctr | 1765 Temple Ave Atlanta, GA. 30337 | (404) 767-8609 |
| Columbia Dunwoody Medical Ctr | 4575 N Shallowford Rd Atlanta, GA. 30338 | (770) 454-2000 |
| Columbia Metropolitan Hospital | 3200 Howell Mill Rd Nw Atlanta, GA. 30327 | (404) 351-0500 |
| Community Friendship Group Hme | 1599 Howell Mill Rd Nw Atlanta, GA. 30318 | (404) 352-5417 |
| Crawford Long Hospital | 20 Linden Ave Ne Atlanta, GA. 30308 | (404) 778-7777 |
| Crawford Long Hospital | 550 Peachtree St Ne Atlanta, GA. 30308 | (404) 686-4411 |
| Crestview Nursing Facility | 2800 Springdale Rd Sw Atlanta, GA. 30315 | (404) 616-8100 |
| Dentistry For Children And Teens | 2244 Henderson Mill Road Ne Atlanta, GA. 30345 | (770) 934-5900 |
| Devine Mission Pch | 452 Holly St Nw Atlanta, GA. 30318 | (404) 792-0936 |
| Dunwoody Outpatient Surgictr | 4553 N Shallowford Rd # 60c Atlanta, GA. 30338 | (770) 455-1983 |
| Eden Brook Of Buckhead | 4920 Roswell Rd Ne Atlanta, GA. 30342 | (404) 531-0145 |
| Eden Care Senior Living Svc | 690 Mount Vernon Hwy Atlanta, GA. 30327 | (404) 843-8857 |
| Eden Gardens | 5399 Northland Dr Ne Atlanta, GA. 30342 | (404) 252-7993 |
| Egleston Children's Hospital | 1405 Clifton Rd Ne Atlanta, GA. 30322 | (404) 325-6000 |
| Egleston Children's Specialty | 1600 Tullie Cir Ne Atlanta, GA. 30329 | (404) 638-1920 |
| Egleston Cystic Fibrosis Ctr | 1547 Clifton Rd Ne Atlanta, GA. 30322 | (404) 315-2700 |
| Elder Care Manor | 733 Glenairy Ct Ne Atlanta, GA. 30328 | (404) 252-1364 |
| Emory University Hospital | 1364 Clifton Rd Ne Atlanta, GA. 30322 | (404) 712-7021 |
| Executive Health Systems | 5505 Peachtree Dunwoody Rd Ne Atlanta, GA. 30342 | (404) 252-0701 |
| Fellowship Senior Ctr | 4530 Janice Dr Atlanta, GA. 30337 | (404) 766-6498 |
| Fountainview Center-Alzheimers | 2631 N Druid Hills Rd Ne Atlanta, GA. 30329 | (404) 325-7994 |
| Garden Lake Personal Care Home | 2187 Telhurst St Sw Atlanta, GA. 30310 | (404) 699-1767 |
| George West Mental Health | 1903 N Druid Hills Rd Ne Atlanta, GA. 30319 | (404) 315-8333 |
| Georgia Back Institute | 303 Parkway Dr Ne Atlanta, GA. 30312 | (404) 265-2225 |
| Georgia Poison Ctr | 35 Butler St Se Atlanta, GA. 30303 | (404) 616-9000 |
| Grace Assisted Living | Po Box 422673 Atlanta, GA. 30342 | (404) 252-6271 |
| Grady Hospice | Po Box 26042 Atlanta, GA. 30303 | (404) 616-3496 |
| Grady Memorial Hospital | Po Box 26109 Atlanta, GA. 30303 | (404) 616-4307 |
| Granada Crisis Group Home | 4450 Granada Dr Atlanta, GA. 30349 | (404) 762-4092 |
| Graves Personal Care Home #3 | Po Box 170411 Atlanta, GA. 30317 | (404) 622-3925 |
| Guardian Foundation Inc | 15 Piedmont Ctr Ne # 930 Atlanta, GA. 30305 | (404) 233-6500 |
| Hammond Glen | 335 Hammond Dr Ne Atlanta, GA. 30328 | (404) 256-6300 |
| Hapeville Personal Care Home | 601 Coleman St Atlanta, GA. 30354 | (404) 767-5874 |
| Hart's Personal Care Home | 819 Beryl St Sw Atlanta, GA. 30310 | (404) 752-6904 |
| Heart Hospital Of Austin | 1100 Circle 75 Pkwy Se Atlanta, GA. 30339 | (770) 933-1553 |
| Hellenic Tower | 8450 Roswell Rd Atlanta, GA. 30350 | (770) 992-4393 |
| Herman Personal Care Home | Po Box 170087 Atlanta, GA. 30317 | (404) 687-8056 |
| Hillside Hospital | 690 Courtenay Dr Ne Atlanta, GA. 30306 | (404) 724-2520 |
| Home Place | 602 Hamilton E Holmes Dr Nw Atlanta, GA. 30318 | (404) 794-9322 |
| Homeland Communities Inc | 5955 Hampton Ct Atlanta, GA. 30349 | (770) 909-8616 |
| Hospice Atlanta | 1244 Park Vista Drive Atlanta, GA. 30319 | (404) 215-6000 |
| Hughes Personal Care Home | 2000 Childress Dr Sw Atlanta, GA. 30311 | (404) 349-1991 |
| Hughes Spalding Children's Hos | 35 Butler St Se Atlanta, GA. 30303 | (404) 616-6600 |
| Huntcliff Summit Assisted Lvg | 8592 Roswell Rd Atlanta, GA. 30350 | (770) 552-3000 |
| Imperial Health Care Ctr Inc | 2645 Whiting St Nw Atlanta, GA. 30318 | (404) 799-9267 |
| Jesse Parker Williams Fndtn | 25 Park Pl Ne # 1520 Atlanta, GA. 30303 | (404) 658-1112 |
| Jewish Tower | 3160 Howell Mill Rd Nw Atlanta, GA. 30327 | (404) 351-3536 |
| Joseph B Whitehead Memorial | 275 5th St Nw Atlanta, GA. 30318 | (404) 894-2584 |
| Joshua Downey Md | 5730 Glenridge Drive, Suite 220 Atlanta, GA. 30328 | (770) 475-3361 |
| K W Collier | 1405 Clifton Rd Ne Atlanta, GA. 30322 | (404) 325-6411 |
| King's Bridge Retirement | 3055 Briarcliff Rd Ne Atlanta, GA. 30329 | (404) 321-0263 |
| Lakewood Christian Manor | 2141 Springdale Rd Sw Atlanta, GA. 30315 | (404) 766-1466 |
| Laties Personal Care Home | 3186 Empire Blvd Sw Atlanta, GA. 30354 | (404) 761-1678 |
| Laurel Heights Hospital | 934 Briarcliff Rd Ne Atlanta, GA. 30306 | (404) 888-7860 |
| Laurelwood Personal Care Home | 2743 Laurelwood Rd Atlanta, GA. 30360 | (770) 455-9283 |
| Lenbrook Square | 3747 Peachtree Rd Ne Atlanta, GA. 30319 | (404) 233-3000 |
| Lice Ladies | 2531 Briarcliff Rd Ne, #109 Atlanta, GA. 30329 | (888) 924-5423 |
| Lifeline At Georgia Baptist | 320 Parkway Dr Ne Atlanta, GA. 30312 | (404) 265-3591 |
| Lillian Avenue | 736 Lillian Ave Sw Atlanta, GA. 30310 | (404) 755-8327 |
| Little's Personal Care Home | 212 Ashby St Nw Atlanta, GA. 30314 | (404) 584-0299 |
| Lj Castleberry Pch | 3155 Hazelwood Dr Sw Atlanta, GA. 30311 | (404) 696-0658 |
| Louis Kahn Group Home | 1538 Markan Dr Ne Atlanta, GA. 30306 | (404) 876-6027 |
| Maggie Russell Towers | 400 Ralph Mcgill Blvd Ne Atlanta, GA. 30312 | (404) 659-0062 |
| Manuel J Maloof Outpatient | 56 Butler St Se Atlanta, GA. 30303 | (404) 616-6770 |
| Marian Manor | 2801 Briarcliff Rd Ne Atlanta, GA. 30329 | (404) 982-0606 |
| Marian's Manor | 1544 Venetian Dr Sw Atlanta, GA. 30311 | (404) 755-3197 |
| Mariner Health | 1500 S Johnson Ferry Rd Ne Atlanta, GA. 30319 | (404) 252-2002 |
| Mariner Post Acute Network Inc | 1 Ravinia Dr # 1500 Atlanta, GA. 30346 | (678) 443-7000 |
| Metropolitan Hospital | 3223 Howell Mill Rd Nw Atlanta, GA. 30327 | (404) 351-3000 |
| Mitchell's Pch | 405 Lawton St Sw Atlanta, GA. 30310 | (404) 753-5030 |
| Mount Vernon Towers | 300 Johnson Ferry Rd Ne # 100a Atlanta, GA. 30328 | (404) 255-3534 |
| Mount Vernon Village | 475 Mount Vernon Hwy Ne Atlanta, GA. 30328 | (404) 252-3163 |
| Ms Lee's Boarding Home | 1592 Mayflower Ave Sw Atlanta, GA. 30311 | (404) 753-7693 |
| Multiple Sclerosis Ctr | 2020 Peachtree Rd Nw Atlanta, GA. 30309 | (404) 350-7392 |
| New Care Health Corp | 6000 Lake Forrest Dr Nw # 200 Atlanta, GA. 30328 | (404) 255-7500 |
| Newtonhouse | 320 Parkway Dr Ne Atlanta, GA. 30312 | (404) 265-8199 |
| Northside Hospital | 5555 Peachtree Dunwoody Rd Ne Atlanta, GA. 30342 | (404) 255-5767 |
| Northside Hospital | 1000 Johnson Ferry Rd Ne Atlanta, GA. 30342 | (404) 851-8000 |
| Northside Hospital Doctors | 960 Johnson Ferry Rd Ne # 510 Atlanta, GA. 30342 | (404) 851-8381 |
| Nursecare Of Buckhead | 2920 S Pharr Ct Nw Atlanta, GA. 30305 | (404) 261-9043 |
| Omni Eye Svc | 5505 Peachtree Dnwdy Rd # 300 Atlanta, GA. 30342 | (404) 257-0814 |
| Omni Eye Svc | 1800 Phoenix Blvd # 406 Atlanta, GA. 30349 | (770) 996-6664 |
| Our Lady Of Perpetual Help | 760 Washington St Sw Atlanta, GA. 30315 | (404) 688-9515 |
| Paradise Living | 606 Flat Shoals Ave Se Atlanta, GA. 30316 | (404) 659-2375 |
| Parkview Manor Nursing Home | 460 Auburn Ave Ne Atlanta, GA. 30312 | (404) 523-1613 |
| Piedmont Hospital | 1968 Peachtree Rd Nw Atlanta, GA. 30309 | (404) 605-5000 |
| Piedmont Physicians Group | 1984 Peachtree Rd Nw Atlanta, GA. 30309 | (404) 350-6600 |
| Plantation South At Dunwoody | 4594 Barclay Dr Atlanta, GA. 30338 | (770) 936-9857 |
| Plastic Surgery Centre Of Atlanta | 5673 Peachtree Dunwoody Rd Ne #100 Atlanta, GA. 30342 | (404) 257-9888 |
| Premier Image Cosmetic & Laser Surgery | 4553 N. Shallowford Road, Suite 20b Atlanta, GA. 30338 | (770) 457-6303 |
| Premier Subacute Rehab Ctr | 3301 Lakewood Ave Sw Atlanta, GA. 30310 | (404) 752-8332 |
| Pulliam Pch | 1373 Beecher St Sw Atlanta, GA. 30310 | (404) 752-5840 |
| Radiation Oncology Ctr | 145 Edgewood Ave Se Atlanta, GA. 30303 | (404) 616-3947 |
| Rape Crisis Ctr/grady Memorial | 80 Butler St Se Atlanta, GA. 30303 | (404) 616-4861 |
| Renaissance On Peachtree | 3755 Peachtree Rd Ne Atlanta, GA. 30319 | (404) 841-6161 |
| Restore Respiratory | 200 Galleria Pkwy Se # 1800 Atlanta, GA. 30339 | (770) 563-8224 |
| Road To Recovery | 3155 Presidential Drive Atlanta, GA. 30340 | (770) 220-2885 |
| Ruby Baines Pch | 991 Mauldin St Se Atlanta, GA. 30316 | (404) 584-9303 |
| Sadie G Mays Health & Rehab | 1821 W Anderson Ave Nw Atlanta, GA. 30314 | (404) 794-2477 |
| Scottish Rite Children's Med | 1001 Johnson Ferry Rd Ne Atlanta, GA. 30342 | (404) 256-5252 |
| Scottish Rite Pediatric Health | 1584 Tullie Cir Ne Atlanta, GA. 30329 | (404) 303-0383 |
| Sheffield Health Care Ctr | 345 Boulevard Ne Atlanta, GA. 30312 | (404) 265-4940 |
| Shepherd Center | 2020 Peachtree Rd Nw Atlanta, GA. 30309 | (404) 352-2020 |
| Small Family Care Home | 1206 Veltre Cir Sw Atlanta, GA. 30311 | (404) 699-0870 |
| Southern Christian Leadership | 334 Auburn Ave Ne Atlanta, GA. 30303 | (404) 522-1420 |
| Southern Reflections | 400 Embassy Row Ne Atlanta, GA. 30328 | (770) 396-8215 |
| Southside Medical Center | 1046 Ridge Avenue, Sw Atlanta, GA. 30315 | (404) 688-1350 |
| Southside Radiology | 1170 Cleveland Ave Atlanta, GA. 30344 | (404) 305-3500 |
| Southwest Hospital & Med Ctr | 501 Fairburn Rd Sw Atlanta, GA. 30331 | (404) 699-1111 |
| Spaulding Children's Hospital | Po Box 26136 Atlanta, GA. 30303 | (404) 616-0600 |
| Spaulding Childrens Hospital | 35 Butler St Se Atlanta, GA. 30303 | (404) 616-6402 |
| St Anne's Terrace | 3100 Northside Pkwy Nw Atlanta, GA. 30327 | (404) 238-9200 |
| St Joseph Place | 2973 Butner Rd Sw Atlanta, GA. 30331 | (404) 346-0745 |
| St Joseph's Health System | 1100 Johnson Ferry Rd Ne # 150 Atlanta, GA. 30342 | (404) 851-5700 |
| St Joseph's Hospital | 5665 Peachtree Dunwoody Rd Ne Atlanta, GA. 30342 | (404) 851-7001 |
| St Thomas Manor | 3409 Washington Rd Atlanta, GA. 30344 | (404) 669-0143 |
| Stephens Pch | 4231 Blanton Ave Sw Atlanta, GA. 30331 | (404) 344-0257 |
| Strategic Investments Inc | 800 Mount Vernon Hwy Ne Atlanta, GA. 30328 | (404) 351-0022 |
| Sue's Benevolent Care Home | 2077 Beecher Rd Sw Atlanta, GA. 30311 | (404) 758-5303 |
| Sunbridge Health Care Ctr | 2850 Springdale Rd Sw Atlanta, GA. 30315 | (404) 762-8672 |
| Sundance Rehabilitation Ctr | 1442 W Wesley Rd Nw Atlanta, GA. 30327 | (404) 603-9161 |
| Sunrise Assisted Living | 8480 Roswell Rd Atlanta, GA. 30350 | (770) 649-1499 |
| Sunrise At Buckhead Asst Lvg | 1000 Lenox Park Blvd Ne Atlanta, GA. 30319 | (404) 261-8700 |
| Sunrise Of Dunwoody Asst Lvg | 4821 N Peachtree Rd Atlanta, GA. 30338 | (770) 452-9558 |
| Sussex Square Apartments | 4341 Cascade Rd Sw # A6 Atlanta, GA. 30331 | (404) 699-0326 |
| Thomas Chacko, Md | 5730 Glenridge Dr, Ste 220 Atlanta, GA. 30328 | (404) 256-7532 |
| Trail-R-Inn Mobile Home Park | 501 Connell Ave Sw Atlanta, GA. 30315 | (404) 766-4522 |
| Trinity Towers | 2611 Springdale Rd Sw Atlanta, GA. 30315 | (404) 763-4044 |
| Truitt's Personal Care Home | 3621 Clovis Ct Nw Atlanta, GA. 30331 | (404) 691-7470 |
| Vencor Hospital | 705 Juniper St Ne Atlanta, GA. 30308 | (404) 873-2871 |
| Vera Personal Care Home | 791 Gertrude Pl Nw Atlanta, GA. 30318 | (404) 794-7871 |
| Ware Avenue Personal Care Home | 1662 Ware Ave Atlanta, GA. 30344 | (404) 767-0906 |
| Wendy's Personal Care Home | 2921 Clay Rd Atlanta, GA. 30317 | (770) 941-6186 |
| Wesley Woods Geriatric Ctr | 1821 Clifton Rd Ne Atlanta, GA. 30329 | (404) 728-6200 |
| Wesley Woods Health Ctr | 1841 Clifton Rd Ne Atlanta, GA. 30329 | (404) 728-6400 |
| Wesley Woods Towers | 1825 Clifton Rd Ne Atlanta, GA. 30329 | (404) 728-6600 |
| William Breman Jewish Home | 3150 Howell Mill Rd Nw Atlanta, GA. 30327 | (404) 351-8410 |
| Word's Personal Care | 799 Moreland Ave Se Atlanta, GA. 30316 | (404) 627-9043 |
| A New Perspective | 1420 Blair Bridge Rd Austell, GA. 30168 | (770) 739-6690 |
| Austell Health Care | 1700 Mulkey Rd Austell, GA. 30106 | (770) 941-5750 |
| Brian Center Nursing Care | 2130 Anderson Mill Rd Austell, GA. 30106 | (770) 941-8813 |
| La Tulippe Personal Care Home | 2130 Plum Ln Austell, GA. 30106 | (770) 732-8662 |
| Presbyterian Village | 2000 E West Connector Austell, GA. 30106 | (770) 819-7000 |
| Wellstar Cobb Hospital | 3950 Austell Rd Austell, GA. 30106 | (770) 732-4000 |
| Wellstar Cobb Neuro | 1791 Mulkey Road Austell, GA. 30106 | (470) 732-4100 |
| Whitley's Personal Care Home | 3354 Clay Rd Austell, GA. 30106 | (770) 941-1368 |
| Wellstar Medical Group Douglas Surgical Associates | 148 Bill Carruth Parkway Suite 180 Hiram, GA. 30141 | (770) 445-4915 |
| Wellstar Paulding Hospital | 2518 Jimmy Lee Smith Pkwy Hiram, GA. 30141 | (470) 644-7000 |
| Emory Parkway Medical Ctr | 1000 Thornton Rd Lithia Springs, GA. 30122 | (770) 732-7777 |
| Sweetwater Springs | 1600 Lee Rd Lithia Springs, GA. 30122 | (770) 819-6777 |
| Celestial Care Home | 6571 Valley Hill Dr Sw Mableton, GA. 30126 | (770) 948-0709 |
| A G Rhodes Home | 900 Wylie Rd Se Marietta, GA. 30067 | (770) 427-8727 |
| Aaa Holly House Personal | 1680 Northwoods Dr Marietta, GA. 30066 | (770) 977-7260 |
| Anna's Personal Care Home I | 1490 Darnell Rd Se Marietta, GA. 30060 | (770) 424-1232 |
| Ashley Manor Personal Care Hm | 532 Dickson Rd Marietta, GA. 30066 | (770) 499-1400 |
| Ashley Oaks Personal Care Home | 455 Whitlock Ave Nw Marietta, GA. 30064 | (770) 590-1900 |
| Atherton Place | 111 Tower Rd Ne Marietta, GA. 30060 | (770) 421-7300 |
| Atlanta Dental Spa- East Cobb | 147 Johnson Ferry Rd Marietta, GA. 30068 | (770) 956-0491 |
| Atria Assisted Living | 1790 Powder Springs Rd Sw Marietta, GA. 30064 | (770) 919-7799 |
| Atria Communities Inc | 9 Sherwood Ln Se Marietta, GA. 30067 | (770) 859-0570 |
| Autum Breeze Health Ctr | 1480 Sandtown Rd Sw Marietta, GA. 30008 | (770) 422-1755 |
| Avett Quality Nursing & Home | 471 Dickson Rd Marietta, GA. 30066 | (770) 426-9494 |
| Bells Ferry Personal Care Home | 303 Kurtz Rd Marietta, GA. 30066 | (770) 422-2060 |
| Brittany House | 1788 Sandy Plains Rd Marietta, GA. 30066 | (770) 517-0309 |
| Children's Healthcare-Atlanta | 3618 Sandy Plains Rd Marietta, GA. 30066 | (770) 579-4000 |
| Cornerstone Terrace | 886 Johnson Ferry Rd Marietta, GA. 30068 | (770) 977-4420 |
| Dental Care Center At Kennestone | 129 Marble Mill Rd Nw Marietta, GA. 30060 | (770) 424-4565 |
| Elmcroft Of Milford Chase | 1345 Milford Church Rd Marietta, GA. 30008 | (678) 309-1220 |
| Harvest House | 1803 Powder Springs Rd Sw Marietta, GA. 30064 | (770) 428-2302 |
| Hearthstone Personal Care Home | 200 Village Pkwy Ne Marietta, GA. 30067 | (770) 952-5212 |
| Heritage Of Sandy Plains | 3039 Sandy Plains Rd Marietta, GA. 30066 | (770) 973-7303 |
| Holly Manor Personal Care Home | 1670 Holly Springs Rd Ne Marietta, GA. 30062 | (770) 973-2273 |
| Homewood Residence-West Cobb | 1160 Whitlock Ave Sw Marietta, GA. 30064 | (770) 422-7778 |
| Jee Ree Pch | 3114 N Meadow Ct Marietta, GA. 30062 | (770) 518-1174 |
| Kennestone Regional Hospital | 2550 Windy Hill Rd Se Marietta, GA. 30067 | (770) 644-1080 |
| Laura Lake Assisted Living | 209 Laura Lake Rd Marietta, GA. 30066 | (770) 590-1616 |
| Lemon Tree Personal Care Home | 1060 Murray Cir Sw Marietta, GA. 30064 | (770) 428-2085 |
| Magnolia Columns Inc | 2440 Canton Rd Marietta, GA. 30066 | (770) 919-1007 |
| Marietta Personal Care Home | 2473 Johnson Ferry Rd Marietta, GA. 30062 | (770) 971-7893 |
| Masterpiece Smiles | 2526 Shallowford Rd Suite A Marietta, GA. 30066 | (770) 924-7826 |
| Moreland Personal Care | 2670 Owens Ave Sw Marietta, GA. 30064 | (770) 222-1774 |
| Morris Living Ctr | 447 Atlanta St Se Marietta, GA. 30060 | (770) 425-3988 |
| Peggy's Personal Care Home | 1606 Huntington Dr Marietta, GA. 30066 | (770) 422-2539 |
| Sandy Plains Pediatric Group | 3618 Sandy Plains Rd Marietta, GA. 30066 | (770) 579-4020 |
| Scottish Rite Children's Med | 1371 Church Street Ext Ne Marietta, GA. 30060 | (770) 425-0752 |
| Specialty Care Of Marietta | 26 Tower Rd Ne Marietta, GA. 30060 | (770) 422-8913 |
| Sunbridge Rehab & Care Ctr-Mar | 50 Saine Dr Sw Marietta, GA. 30008 | (770) 429-8600 |
| Sunrise At East Cobb Asst Lvg | 1551 Johnson Ferry Rd Marietta, GA. 30062 | (770) 509-0919 |
| Usa Fibroid Centers | 1050 E Piedmont Rd, Suite 104 Marietta, GA. 30062 | (470) 407-4774 |
| Usa Vascular Centers | 1050 E Piedmont Rd Ste 104 Marietta, GA. 30062 | (470) 435-7040 |
| Usa Vein Clinics | 1050 E Piedmont Rd, Ste 104 Marietta, GA. 30062 | (404) 418-4648 |
| Wellstar Kennestone Hospital | 677 Church St Nw Marietta, GA. 30060 | (770) 793-5000 |
| Wellstar Kennestone-Windy Hill | 2540 Windy Hill Rd Se Marietta, GA. 30067 | (770) 644-1000 |
| Wellstar Medical Group Hospitalist Group Medicine | Wmg Provider Recruitment 793 Sawyer Road Marietta, GA. 30066 | (470) 644-0025 |
| Wellstar Medical Group Neurology & Headache Center | 780 Canton Road Suite 400 Marietta, GA. 30060 | (770) 422-3602 |
| Wellstar Medical Group Podiatry | 55 Whitcher Street Suite 450 Marietta, GA. 30060 | (770) 590-4188 |
| Winnwood Retirement Community | 100 Whitlock Ave Nw Marietta, GA. 30064 | (770) 428-6200 |
| Bethel Gardens | 3805 Jackson Way Powder Springs, GA. 30127 | (770) 943-3620 |
| Brian Center Nursing Care | 3460 Powder Springs Rd Powder Springs, GA. 30127 | (770) 439-9199 |
| Prus Boarding House | 5266 Memorial Ln Powder Springs, GA. 30127 | (770) 941-7718 |
| Shining Smiles Family Dentistry | 5041 Dallas Hwy Powder Springs, GA. 30127 | (770) 766-7473 |
| Top Of The Line Personal Care | 3865 Oakview Dr Powder Springs, GA. 30127 | (770) 943-8277 |
| Alterra Clare Bridge | 4375 Beech Haven Trl Se Smyrna, GA. 30080 | (770) 803-0100 |
| Delmar Gardens Of Smyrna | 404 King Springs Village Pkwy Smyrna, GA. 30082 | (770) 432-4444 |
| Emory-Adventist Hospital | 3949 S Cobb Dr Se Smyrna, GA. 30080 | (770) 434-0710 |
| Harold Avenue Personal Care | 1969 Harold Ave Se Smyrna, GA. 30080 | (770) 438-6524 |
| Heritage Oaks Living Ctr | 1810 Roswell St Se Smyrna, GA. 30080 | (770) 319-0677 |
| Reich Dental Center | 4849 S Cobb Dr Se Smyrna, GA. 30080 | (770) 435-5450 |
| Ridgeview Institute | 3995 S Cobb Dr Se Smyrna, GA. 30080 | (770) 434-4567 |
| Smyrna Towers Inc | 4000 S Cobb Dr Se Smyrna, GA. 30080 | (770) 435-4010 |